This pisses me off. Seriously and totally pisses me off and makes me want to go medieval on them. This is why I actually applauded the attempts by the Iranian woman who wanted to punish her attacker by asking acid to put out his eyes. Before you call me barbaric and thinking about an eye for an eye, this is what she was left with.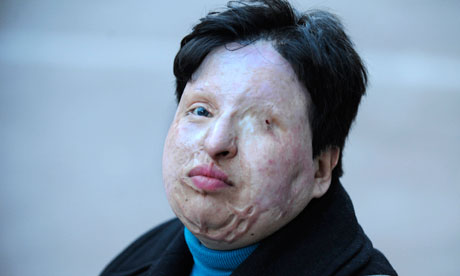 Yes, eye for an eye is good. Same with rapists whose penis's should be hacked off with a blunt shovel and paedophiles should be physically tortured till their gonads pop out of their eyes. Bastards. As it so happens, this brave woman actually forgave her attacker at the last moment. That's the level of her humanity, you bastard, may you rot here on earth, forget about hell.
And then I read two stories today. First where in Bangladesh, men were sentenced for life terms for an acid attack. Excellent news, these bastards need to be locked away for life. Good for you, Bangladesh.
Dhaka, Sep 10: Four Bangladeshi men have been sentenced to life in prison for throwing acid on a girl who rejected their advances, a media report said.

The incident had taken place in 2006 in northeastern Habiganj district along the border with India, the Daily Star reported.

The four men were identified as Abdul Quaiyum, Haris Miah, Auli Miah and Alkas Uddin.

They were convicted and sentenced in absentia by the district and sessions court in Habiganj of breaking into the house of Abdur Rahman and hurling acid on his 18-year-old daughter Mayarunnesa in February 2006.

Only Haris Miah was arrested, while the others are still at large.
And then in that lovely country, Pakistan, it was doubly heinous.
QUETTA: Four female school teachers received burn injuries on their faces after they were attacked by unidentified men in Quetta on Saturday.

Police informed that the teachers were on their way home in a van when the attackers riding a motorbike threw concentrated acid on their faces, and then fled.
You bastards have ruined 4 women and also stopped students from learning from them.
This is what you left her with. And knowing about Pakistan, I very much doubt that it will be doing anything to these bastards as compared to what Bangladesh did. And before you think I am taking off on Pakistan, this bloody behaviour is horrid and perhaps even worse in India where bride burning and dowries and acid throwing is far more given that its a bigger country. More women are devastated in India. May the lot of them burn themselves. May the acid sprinkling fleas of 1000 camels infest their groin. Bastards.