Was stuck waiting for a meeting to begin when my eyes fell on the free morning rag, the Metro. This is handed out to tube and train travellers in London so is pretty widely read I would have said. 
It was opened to the classifieds and some of them were very interesting so took the liberty of snapping some pictures. As you can see, the great and good of the great unwashed human herd land up in these pages. Flights, gay sex, basic jobs and some other weird and wonderful advertisements are all here.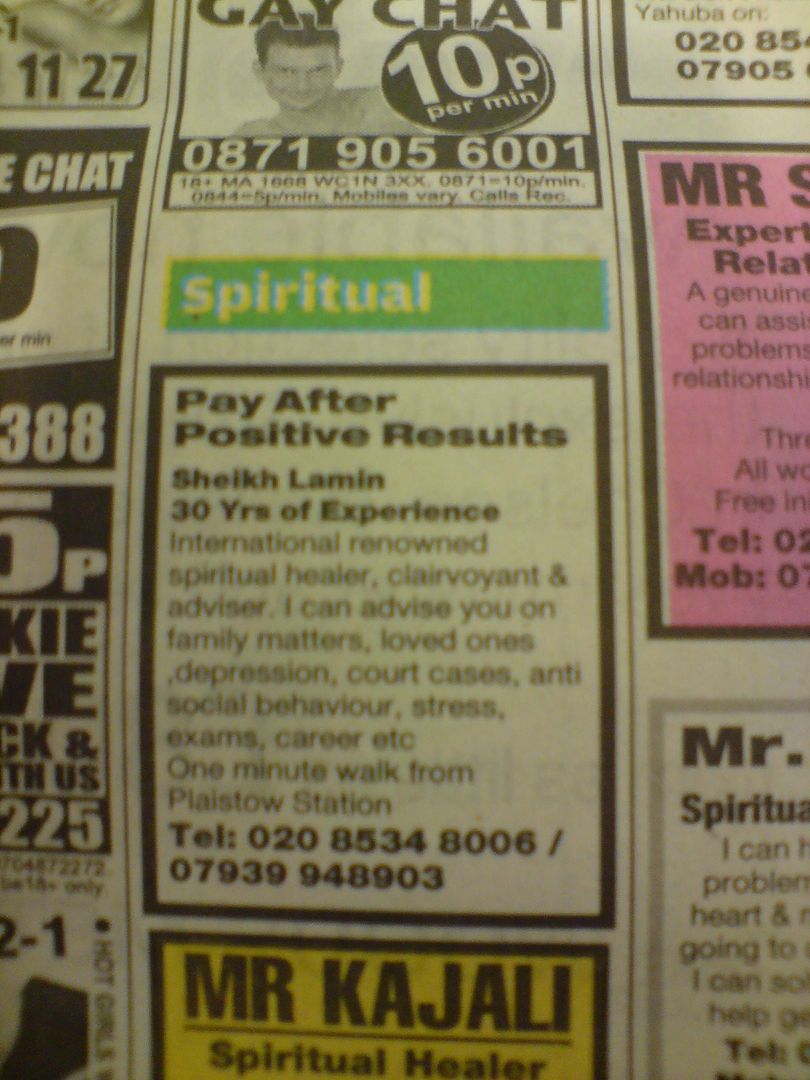 Shiekh Lamin offers positive results on healing, clairvoyancy, advising, family matters, loved ones, depressions, court cases, anti social behaviour, stress, exams and career. And no payment requested up front, just pay after everything is hunky dory.


Holy cow, here's another one, Mr. Kajali, but he has business transactions to his repetoire compared to the aforementioned Sheikh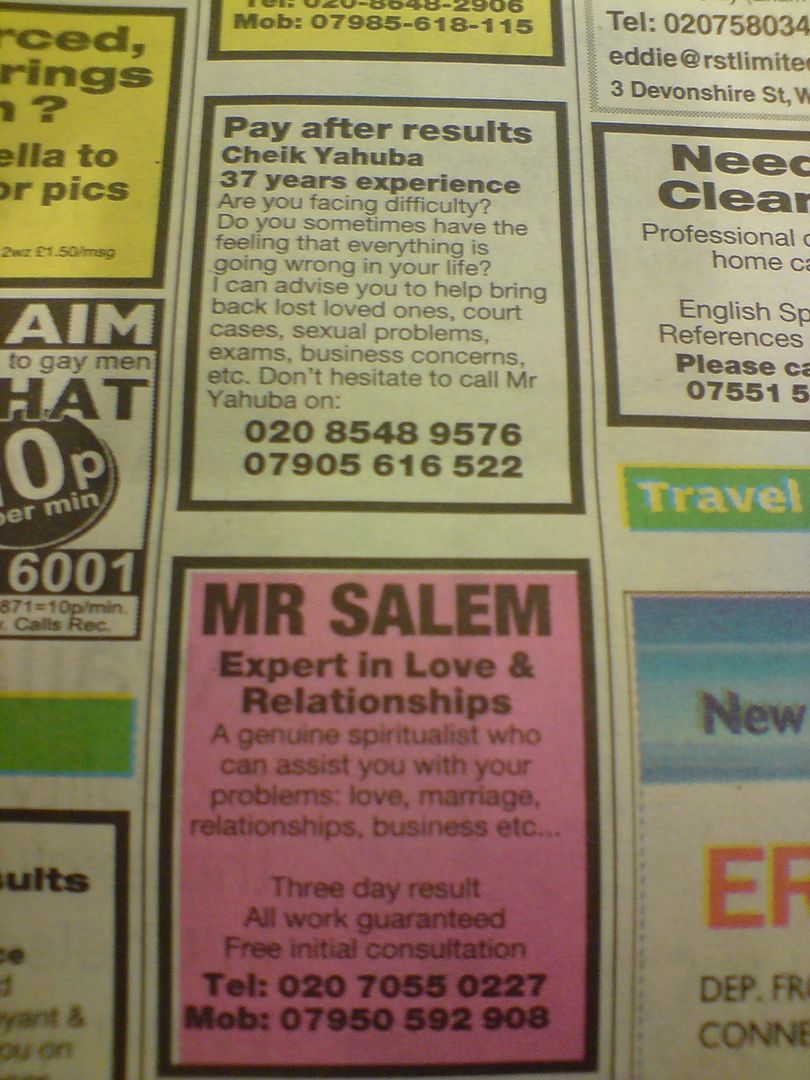 But as with everything, there is specialisation and competition. Mr. Kajali should not rest relaxed, he has competition. Cheik Yahuba has 37 years of experience sorting out problems and besides the others, he brings back lost loved ones and also sorts out sexual problems AND throws in business problem solutions in for free :)


But people sneer at just Sheikhs and Mr.'s, now we have a Professor Touba, who seems to specialise in all effective problems. And he seems to have a hyperspecialisation in business problems. Professor, eh? Now that's something significant, you dont get professors for cheap, you know? And that's why he isnt promising payment after positive results, I am sure he will want to get payment upfront, or is that because he is a clairvoyant? Knows who is a good credit risk or not? I think the wanker bankers are missing a trick, instead of investing billions in GARP training, people and systems in risk management, we just get some of these worthies. Bingo, problem solved, eh?
Plus a Professor!, I am missing a trick, even Ivy League Professors will be upset that they do not get a chance to claim all these wonderful qualities that Professor Touba is claiming.
But take a look on the top right, second down, they are now going for double barrelled names, its not just Mr. or Sheikh, but its Mr. Sheikh Ibrahema and he has speed as his unique selling proposition. He talks about speedy resolutions. Speedy Sheikh, eh?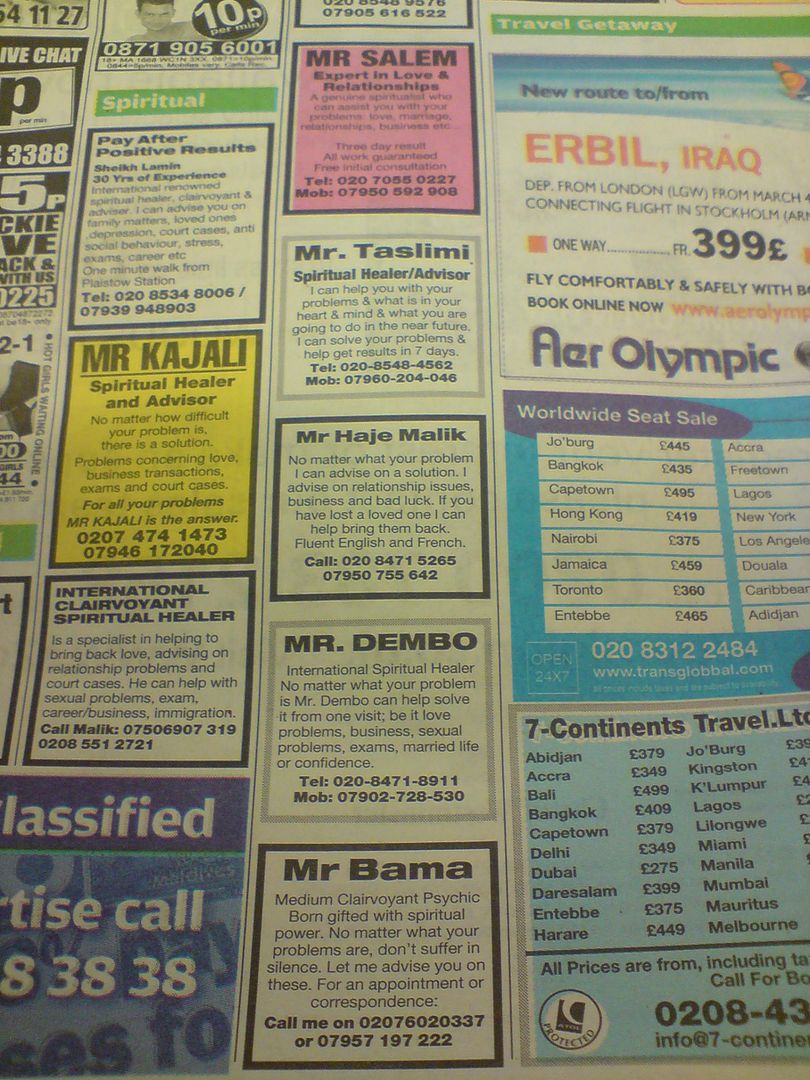 Then we have Mr. Salem (in pink, no less!), Mr. Taslimi, Mr. Haje Makil, Mr. Dembo and Mr. Bama) bringing up the rear…
btw. where are the women? bloody male dominated patriachal gits crowding out the women from this field. I could have sworn that women are the perfect Clairvoyants...(says the man well experienced with the fault finding women in his life ranging from mother, wife, daughter, sisters, girlfriends, co workers, etc. etc.)
Also note the advertisement for flights to Erbil, Iraq on the right. Heh, they are offering £399 for a one way ticket. Tells you all, no? And that too via Air Olympic. Going to Iraq on a airline named after the abode of Gods with a one way ticket is just too close to death, danger and heaven for my comfort….


The security training wasn't that interesting, but when you are tired of getting security trained, you can go into the topless bar. Drinks are £10 quid each!, but it was a relief that they talked about the fact that there are hostess's available. The idea of having topless hairy man-breasted men serving me £10 quid drinks was not really palatable to me personally. But the idea of juxtaposing security training with topless bars just struck me as funny.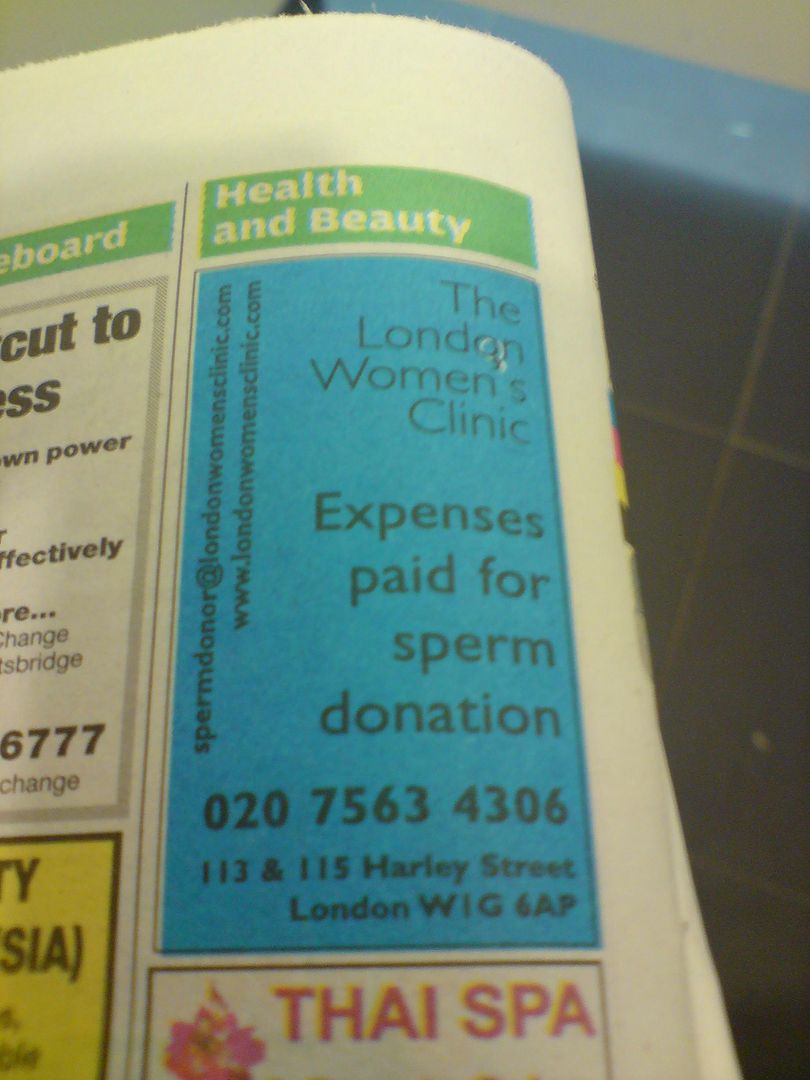 And then you have another interesting combination. The London's Women's Clinic wants sperm donation and the men will get paid expenses, but just below are two advertisements for services (Thai Spa and Oriental Massage) where release of male sperm entails payment on part of the men. See the business idea that I am getting to? I am surprised nobody twigged to this. Sometimes newspapers throw up the weirdest of things..