So a month back, kids, I went for a walk around London. It was lead by this librarian who took us around buildings and places where bagford had an association with. I've written about him earlier to you.
I can understand why people are not happy with him. For him to cut out title pages is a crime. Heinous.
But compared to that, he did help create some of the great libraries of London so that's good.
Interesting chap :)
Love
Baba
'A Man of very surprising Genius': John Bagford, Bookseller and Collector - Untold lives blog
http://britishlibrary.typepad.co.uk/untoldlives/2016/04/a-man-of-very-surprising-genius-john-bagford-bookseller-and-collector.html
(via
Instapaper
)
---
[H]e was a Man of very surprising Genius, and, had his education...been equal to his natural Genius, he would have proved a much greater Man than he was. And yet, without this Education, he was, certainly, the greatest Man in the World in his way...
So wrote the Oxford antiquary Thomas Hearne of his friend John Bagford (b. 1650/51, d. 1716): a man of humble background and little formal education, a one-time shoemaker who made a career as a bookseller. Since he counted among his customers such luminaries as Hans Sloane and Robert Harley – whose libraries went on to form foundation collections of the British Museum – Bagford's activities are of no little interest in the history of the British Library and its books. Bagford is principally remembered today for amassing important collections of early printed ballads and title-pages. The latter he gathered with the object – unfulfilled at his death – of writing 'an Historical Account of that most Universally Celebrated, as well as Useful Art of Typography'.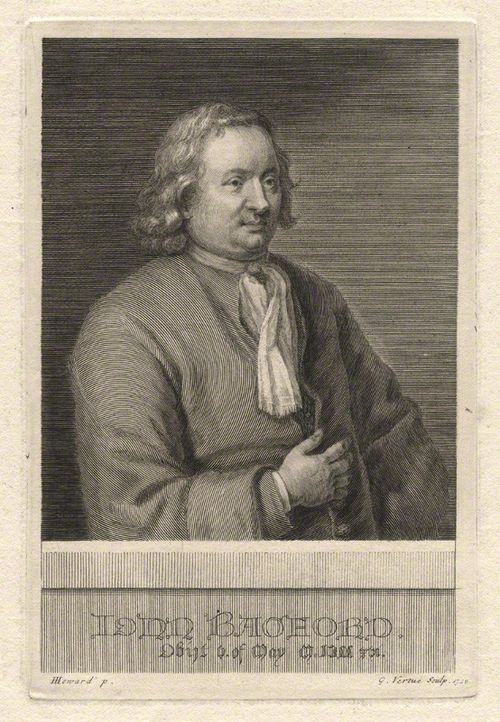 Engraving of John Bagford by George Vertue, after the painting by Hugh Howard. © National
---